Here is some useful information about Thailand, especially about Bangkok, which I gathered while traveling there in February and March 2011.
Visa:
For Austrians, and also for many other nationalities, there is no visa required for Thailand if the stay doesn't exceed 30 days, if entering by plane, or 15 days, if entering Thailand through a land border. For a longer stay a visa is required, which has to be acquired at a Thai consulate before entering the country.
I got my visa at the embassy of Thailand in Saigon (Vietnam). For me as Austrian the visa was free of any charge and valid for 3 months. Unfortunately, the so called visa free exemption, where for this kind of visa no fees applied to Austrians and some other nationalities ended on the 31th of March 2011. Now a fee has to be paid for all types of visa for Thailand.
Getting the visa at the Thai embassy in Saigon is uncomplicated and the officials are very friendly. At the embassy you have to fill out an application form and you have to hand in your passport and a passport photo. The next day you can come back to pick up your passport plus visa.
The Thai embassy in Saigon is located in:
Tran quoc thao street, dist 3
The opening hours are:
Mo-Fr: 8:30-11:30, 13:30-16:30
Money:
The currency in Thailand is Baht. 1 USD is around 30 Baht.
Almost all ATMs in Thailand charge a ridiculously high fee of 150 Baht when withdrawing money. There is only one Bank, called Aeon Bank, which doesn't charge any fees when withdrawing from their ATMs. These ATMs also allow to withdraw a rather high amount of money. I was able to withdraw 15.000 Baht.
Public transportation to Kao San road in Bangkok:
If you stay in the suburbs of Bangkok and you want to get to the center, the Kao San Road, you can either take a taxi or tuk tuk, which can be quiet expensive, or you can use the public transport which is very cheap.
First you can take the metro as close to the city center as possible, which means getting of at the Hua Lamphong metro station. From there you can take bus 53 to Banglapu, which is right next to the Kao San Road. However the bus ride can take quite a while, depending on the traffic. I think it almost took me one hour, because we where completely stuck in traffic and going in less than walking speed.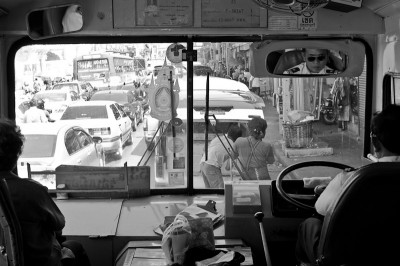 The other, much nicer option, is to continue by boat. From the Hua Lamphong metro station you have to walk down to the Chao Phraya River (about 10 -15 min walk) and get on the express boat at the pier Tha Ratchawong. The express boat takes off regularly (every 20 min or so). Get of the boat at Tha Phra Athit. From there it is around 5 min walk to the Kao San Road. The boat ride takes around 20 min.
The ticket price for both, the bus and the boat, is minimal. I don't remember the exact price, but it is something around 1 USD.
Free Thai fight in Bangkok:
Unfortunately, tourists in Thailand often pay much higher entrance fees than locals do. This is especially the case in national parks and also at Muay Thai fights. For example, the cheapest ticket for a Thai fight at the Lumpinee boxing stadium in Bangkok is 1000 Baht for tourists. According to a Thai friend of mine, locals pay around 100 Baht.
There is however a great opportunity to see a Thai fight in Bangkok for free. Every Wednesday, starting at 6 pm, there are free Thai fights in front of the MBK shopping center. At the so called MBK fight night, you can watch several fights, with fighters (men and women) from different nationalities. Have a look at the gallery to get some impressions from the MBK fight night.