Here is some useful information about Cambodia, which I gathered while traveling there for 2 weeks in January 2011.
Visa:
A visa on arrival, which is valid for 1 month, is available at the border when entering Cambodia. The visa is 20 USD and is issued within a minute once the completed application form is handed in to the border police. In addition you should have a passport photo, but if you don't have one you will only be charged one extra dollar.
Here is an advice in case you enter Cambodia by bus. It could happen, as it did in my case, that the bus escort will collect your passport and ask you to pay 25 USD (or another overpriced amount) for the Cambodian Visa (if you don't already have one).
In the bus I had only exactly 20 USD with me as I knew this was the price for the Visa. Therefore I couldn't pay the man from the bus company, although he was insisting that I should pay 25 USD. However, pretty soon he gave up and just took my passport, which I got back when we arrived at the border to Cambodia.
The Visa was arranged by the bus company for everyone who payed the 25 USD. Myself, I just had to fill out the application form myself and I got a Visa at the border for 20 USD.
Therefore, if you want to save 5 USD, you should tell the bus escort that you don't have more than 20 USD with you, no matter how much the escort insists. It will be fine and you can get the Visa at the border yourself.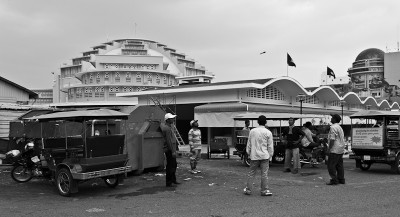 Money:
The currency in Cambodia is Riel and US dollar. 1 USD is around 4000 Riel. Both currencies are used concurrently. You can always pay in both currencies and your change can be a mix of Riel and USD as well. Amounts less than 1 dollar are always payed in Riel however, because there are no dollar cents available. ATMs dispense only USD. Most ATMs will charge you a fee, but there are a couple of ATMs around, belonging to Canadia Bank, which are free of charge (you only have to pay the fee which your own bank at home might charge you).
Transportation:
At the moment there is no train in Cambodia, however there are plenty of cheap buses going everywhere in Cambodia. Tickets can easily be purchased at hostels and travel agencies.