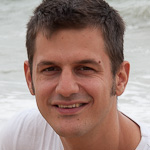 In September 2010 I gave up my apartment, took all my savings and left my home town Vienna, heading east. This was the beginning of my trip around the world with an open end.
About Armin
I'm a freshly graduated physicist. I think physics can show you a world of wonders and can be quite an "adventure in the mind". Although studying it is not always as much fun as this might sound. 😉
Besides these adventures in the world of physics I also like any other kind of adventures in the "real world", especially anything which involves traveling.
Before this world trip I have already traveled (and lived) in many places all over Europe and North America. Now I want to get to know some of the other continents.
Since I am quite open for any changes of plan I can't say what my exact travel route will look like. However, the following destinations will most likely be included during the first months: Russia, China, South East Asia and Australia. At some point of my journey I hope to get some enlightenment about how this trip, and eventually my life after travel, should continue.
One little principle I have is that I want to do all my travels overland (no airplanes).
This is a low budget trip
Since I'm always low on budget, this is a low budget trip, where I try to have all the fun but the most inexpensive way possible. This means you will find me most likely in hostels but rarely on guided tours.
Sometimes it is not easy to find detailed and reliable information about the things to do in certain destinations, especially if you want to do it the inexpensive way.
Therefore I will share all the useful information, which I gathered along my way, in this blog.
On this website you can find
Stories about my experiences along the way.
Travel tips for low budget travelers and general information about the destinations I have visited.
A google map with flags on my current position and on the places I have visited on this trip.
Pictures from the places I have visited, shot with an SLR.
I hope you enjoy this blog!
Cheers!
Armin