When I thought the first time about catching a boat from Asia to Australia, I didn't think that it would be such a big problem. The distance between Indonesia and Australia is really not that far and I thought there would be some kind of ferry going somewhere from Indonesia to somewhere in Australia.
However, soon after I started my research on the internet I realized that there simply is no ferry at all connecting the two continents. In fact, in a lot of forums discussing the issue on how to get on a boat from Asia to Australia, you will often get the answer: "Forget about it."
Nevertheless, after some more research, I finally found a couple of (affordable) options on how to cross the sea between Asia and Australia:
Freighter: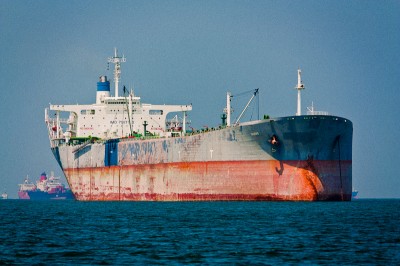 A few cargo ships out there also take passengers along on their cargo routes. There are several online travel agencies where you can book cruises on a cargo ship all over the world. For example the company http://www.freightercruises.com.
On their site you can find two cargo ships connecting Asia with Australia. See here:
http://www.freightercruises.com/voyages.php#southseas
One cargo ship starts from Taiwan and goes to Melbourne on a pretty long trip. The other one, the MSC Basel, can be boarded in Singapore and goes to Fremantle in 9 days. (Note that you can't board the freighters on all stops along its route.)
These two cargo ships are the only ones I found which go from Asia to Australia and also take passengers. All the travel agencies I looked up offer the same cruises on these two freighters.
The MSC Basel was the only really interesting option for me and I inquired about a cruise with it directly at its owner Laeisz in Germany. The reply came immediately, however the next date for an available cabin on the freighter was 4 months ahead. (The freighter goes every 8 weeks and there are only two cabins for a maximum number of 4 people on board) This date was too late for me.
At the MSC Basel you would pay 90 Euros per day (or 80 Euros per day if the cabin is shared) and an additional 192 Euros for the whole trip.
There are actually many cargo ships going from Singapore to Fremantle and I wrote emails to all their owners asking them if they would take passengers. Only one company wrote a short reply, saying that they don't take passengers.
Sailing yacht: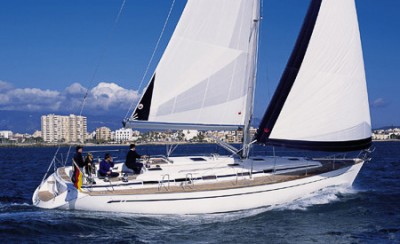 Another interesting way to cross the sea is to join the crew on a sailing yacht. I found a yacht that went from Thailand to Australia on www.findacrew.net.
This website provides a platform where boat owners and potential crew members can sign up and search for each other. Boat owners there are either looking for passengers or for working crew or sometimes even for a romantic relationship. As a passenger you would typically have to pay a daily rate. Working crew positions can either be paid or unpaid. Prior sailing experience is often not required.
The boat I found, a 15m long Bavaria 49, was on a boat delivery from Turkey to Australia. I joined the crew as a deckhand in Thailand. I didn't have any sailing experience before. As I found out later, you normally don't have to pay if you are crew on a boat delivery (neither will you be paid). However my deal was to pay 30 USD per day to contribute to the costs for food, fuel and marina fees. Since this boat was the only one I found going from Asia to Australia at this time, I didn't really have another choice anyway.
The basic sign up on www.findacrew.net is free. However you have to become a premium member if you want to contact non-premium members and the fee for that is quite high. If you know another premium member, then he can find out the contact details for you. There is a guy with a premium acount on www.couchsurfing.org who does that for you. Just search for findacrew on the couchsurfing group search and you will find him.
Not everyone from the crew on my sailing cruise found the boat on www.findacrew.net. Here are some other options how you can find a sailing boat:
The skipper of the boat was an experienced sailor, and found the boat by writing to one of his sailing contacts who was a friend of the boat owner.
A french couple, who joined us in Bali, were desperately looking for a boat from Indonesia to Australia for weeks. They also put a note on the notice board at the marina in Bali, but they didn't get any reply. Then they found the blog from one of our other crew members, who was writing about our sailing trip and our stop in Bali. The french couple wrote him a message asking if they could join us and it worked out.
Another girl from India joined us on the cruise from Singapore to Bali. I met her on a couchsurfing meeting, and she spontaneously decided to join our boat.
At last there was a lucky french guy, who didn't really plan anything but just walked around at the marina in Bali one day asking for a ride to Australia. Very luckily for him, that's how he found our boat.
Another site, where we later found potential cruises from Asia to Australia, is called www.pacificyachtdeliveries.com. These guys do boat deliveries only, and as a crew you don't have to pay. As a deckhand you also don't necessarily need sailing experience.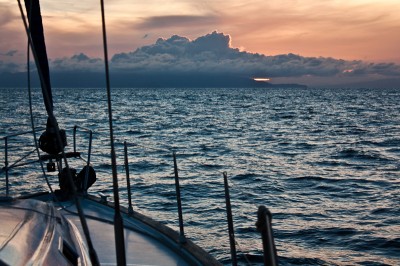 Please feel free to post a comment if you know of any other ways on how to cross the sea between Asia and Australia.
Fair winds!