After 12 days on the sea, we barely made it to Bali with our last drop of diesel. My first steps on land were a bit shaky because I had sea legs, but it was a nice feeling to step on non-moving ground again. Here is a picture of the crew from the trip Singapore to Bali at the Bali marina.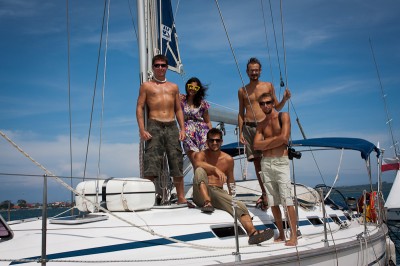 We were all happy that our boat actually made it to Bali. But from now on everything was very uncertain. First of all we didn't have a sailing permit for Indonesia. Officially we were not allowed to stop in Bali and it was going to be interesting to see what the coast guard thought about that. Therefore we didn't know if or for how long we could stay at the marina. The second uncertainty was our next destination after Bali. We had to call the boat owner to find out more about that.
When we talked to the officials at the marina, our nonexisting sailing permit turned out be not such a big deal, only quite expensive. They told us to go to another office in town where we could get a permit. A taxi drove us there. After that office we had to go to two more offices until we finally got a permit to stay for two days. However, in order to get it, the captain had to bribe the officials at each office. A couple of hours later we were back at the marina and had to deal with the customs officials, who were supposed to check our boat. However, they only asked for another bribe and didn't even have a look at our boat. I don't know exactly how much the captain paid for all the bribes, but I think it was around 300 US dollars, which is a fortune for Indonesian conditions.
On our first day on Bali we took a day off to enjoy the beautiful island. I decided to have a relaxing day on the beach in Kuta, while the rest of the crew took the bus on a daytrip around the island. The waves in Kuta are great, therefore I was thinking about doing some surfing. To rent a surfboard is less then 5 USD per day. But then I caught sight of the airport next to the beach, and I started to walk there in the hopes to get close up shots of flying airplanes. This took me all day, and I didn't succeed. But it was a nice walk anyway and I got to see some interesting sections of the beach. (see gallery-Bali)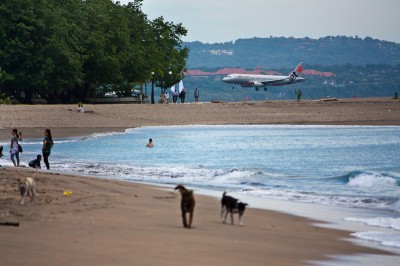 The next day Mithila left our crew and caught her flight back to Singapore. A couple of hours after Mithila left, we were going to meet two new crew members. Yann and Aurelie from France were backpacking all the way from France to Australia and further without the use of airplanes, and for weeks they were desperately looking for a boat that would take them from Bali to Australia. On their search they came across the blog of Nicolas, who was writing about our sailing trip and our stop in Bali. Yann and Aurelie contacted Nicolas and it all worked out. We met them in Kuta and had two new nice crew members.
In Kuta we also went to an internet cafe where the captain contacted the boat owner via Skype and asked him about our next destination. We all knew that the only logical destination would be Darwin, which is the closest port in Australia, before the boat would continue to Brisbane. However, the boat owner had already made many illogical decisions before.
This time it was no exception. The boat owner told us to go to Brisbane in one stop. This was bad news, because we all knew that this would be impossible to accomplish with our kind of sailing vessel. The trip would take at least a month, and there wouldn't be enough diesel nor water, and in addition the engine was in a bad condition and could break down any time. The captain tried to discuss this with the boat owner, but he insisted that we should sail to Brisbane.
For me it was clear that I had to leave the boat now. Most of the other crew members, including the captain, decided to leave the boat as well. I was actually quite happy to stay on Bali and enjoy this tropical paradise a bit more. I only had to find another boat to Australia which would not be easy.
After we left the boat, Nicolas and me were sitting in a bar in Kuta and were looking online for a cheap hostel. I had my third beer when I got a message from the captain on Skype saying: "Darwin!!!"
Since we all left the boat, it seemed like the boat owner had no other choice than to let us sail to Darwin. This was good news and everyone from the old crew happily returned to the boat, although for me it was also a bit sad to leave Bali too soon. Let me remind you, passenger boats that go from Indonesia to Australia are very rare.
Besides Yann and Aurelie, we found two more new crew members in Bali. One of them was Sheila, a girl from the Philippines. Bart got to know her in Singapore, and she flew to Bali to join us on the trip to Australia. And there was Alex, an easy going guy from France. He walked down the pier in Bali one day to see if there was a boat that would take him to Australia. Nowadays it's very hard, if not impossible, to get on a boat this way. But Alex was lucky and walked by our yacht when we had dinner on the deck. He asked us if we were going to Australia and that's how he joined us on our trip to Darwin. Alex was also backpacking from France to Bali without using airplanes.
On our third day in Bali we had to bribe the officials one more time, because we stayed a day too long. Then we filled up the diesel, got tons of supplies for a crew of eight and left Bali sailing south into the open sea. How this last stage of my sailing trip from Phuket to Australia turned out to be you can read in the next post.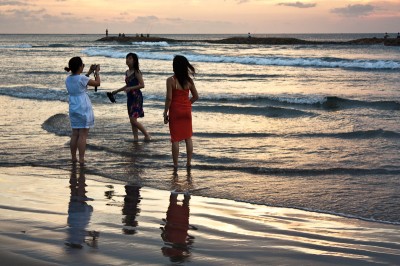 Have a look at the galleries to see more pictures from Bali.