On the 17th of January 2011, I took the bus from Saigon in Vietnam to Cambodia. While on the bus I started to read about the tragic history of Cambodia (which I didn't know of before) in the Lonely Planet travel guide, and it changed my whole view and expectations of this country.
I got the visa for Cambodia at the border, and I was lucky to avoid a little scam by the bus company (see tips for Cambodia).
At the first stop after the border, at a lunch station, I already noticed quite a difference to Vietnam. Unlike in Vietnam, once we got out of the bus we were welcomed by little children (maybe between 5 and 10) begging or trying to sell junk goods. This is the same picture everywhere in Cambodia, at least wherever tourists are. Sometimes it is amazing and strange to see how 7 year old girls "flirt" you into buying their goods with the charm of a 20 year old playgirl.
The next bus stop was Phnom Penh, the capital of Cambodia. Here I checked in at the Encounters hostel, which is a very descent place with a nice atmosphere for only 5 USD per night.
Phnom Penh is a busy city, and typically for South East Asia, motorbikes are crowding the roads. However, somehow in contrast to the rest of Phnom Penh's less developed or less industrialized appearance, there are also many big, fancy and shiny cars crowding the streets. Judging by the cars it seems that a few Cambodian's make quite a lot of money.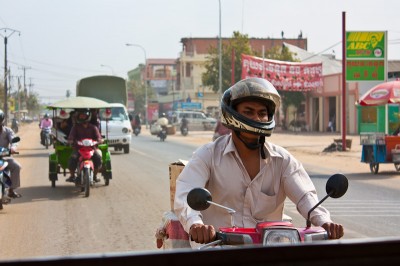 At the hostel I waited for my friends from Austria, Stefan and Maria, who arrived a couple of days later.
Together we visited the Choeung Ek Killing fields and the Tuolsleng Genocide Museum, where we learned more about Cambodia's recent history (see killing fields gallery).
After relaxing in Phnom Penh for a few more days, we took the bus to Siem Reap where we were going to visit the famous temples at Angkor Wat.
While looking at the countryside during the bus ride, I saw many farm houses along the road which where all built on rather high stilts. Besides farmhouses, farms and tropical nature I didn't really notice any sign of industrialization like factories, highways or bigger towns.
In Siem Reap we stayed at the Bun Kao Guesthouse. Siem Reap is a small, relaxing but very touristy town. The biggest tourist attractions in the town center are little fish eating the dead skin of your feet, which is a very tickling experience. And there are also many places where you can try "Happy Pizza". "You will never know if you don't try", does the sign say in front of the Pizza place.
The main tourist attraction however is Angkor Wat, which is a little bit outside the town. A one day pass for visiting Angkor Wat and the surrounding temples is 20 USD, a three day pass is 40 USD (the three days can be used within a week) We explored Angkor Wat in one long day (4:30 am to 9:00 pm) on a bike. You can rent a bike for 1 USD per day. On our tour we were able to see all the major temple sites like Angkor Wat (at sunrise), Bayon, Ta Prohm, Ta Som and Phnom Bakheng (at sunset). The day was long, but quite relaxing. We were not in a hurry, and had enough time to explore the temples carefully and there was also time for longer breaks.
Don't listen to Tuk Tuk driver's and tourist guides, who want to make business with you, and who of course tell you that it's not possible (that the distances are too far) to explore the temples on a bike. However it is also quite cheap (although I don't remember the exact price) to explore the temples on a Tuk Tuk, if you don't feel like riding a bike.
After only a few days in Siem Riep, I took the bus to Bangkok (for 7 USD) on the 2nd of February. Stefan and Maria had already left 2 days earlier with a different travel plan than mine. Eventually we were going to meet again in Bangkok.
Have a look at the galleries to see more pictures from Phnom Penh, Siem Reap and Angkor Wat.