On the 2nd of February 2011, I took the bus from Siem Reap (Cambodia) to Bangkok (Thailand). Once the bus arrived in Bangkok I noticed a big difference to Combodia and Vietnam, where I travelled the previous 14 weeks. I felt like being back in the "west", with all the modern highways, skyscrapers, factories and huge McDonald advertisements. But then again, the amount of motorbikes and street vendors give Bangkok definitely an eastern vibe. I also realized that I'm in the country of smiles, as people on the streets were actually smiling and I felt kind of a relief after having a bit of an uneasy feeling in Cambodia.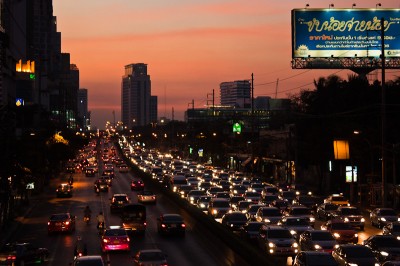 The first two nights in Bangkok I stayed at the Sukhumvit On-nut Guesthouse. Here at the hostel it was also the first time, that I got a bit confused about people's gender. First I was sure that the receptionist was a woman, but after a while and after having a closer look I wasn't that sure anymore. Then I learned that in Thailand there are actually many so called ladyboys. Supposedly some of them are men who have been raised by their family as a woman. And some are even completely transformed into a woman by surgical operations. After a while in Thailand I couldn't tell anymore who was a man and who was a woman. A Thai friend of mine, who is obviously a sweet girl, even started to fool with me by telling me that she was actually a man. This was really too much for me. I think at that point I would have believed that Paris Hilton was a ladyboy if someone had told me so.
After three nights at my first hostel, which had really bad air and no mosquito net, I changed to the ETZzz hostel, where I stayed for the rest of my stay in Bangkok (around four weeks).
The ETZzz Hostel was only one week old when I moved in and it had a special opening deal for 7 USD per night. I was also allowed to take part in a Buddhist opening ceremony, where the hostel was blessed by 9 Buddhist monks.
Since I was taking quite a long break from traveling, I was able to catch up on my blog and I also had time to finish the book I was reading, "The photographers eye" by Michael Freeman, which I can really recommend.
As a long term guest at the hostel I got to know the fun receptionist Nan (from Bangkok) pretty well and we became good friends. Together we were painting the Kao San Road red at night. And when my friends from Austria, Stefan and Maria, came to Bangkok, she called in sick at work and drove us around in Bangkok's neighborhood. The first day we went to a popular beach in Chonburi (south of Bangkok) called Bangsaan beach. Since this beach is only visited by Thai people you don't get to see any bikinis there and hardly any skin at all. Thai wear normal shirts and pants even when they take a swim in the water.
On the second day we visited the ancient temples of Ayutthaya, the old capital of Thailand.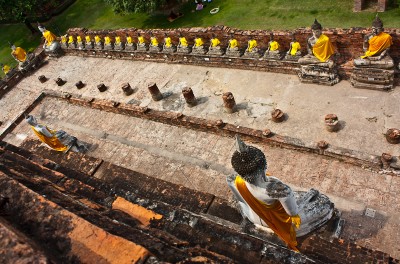 In Bangkok I also met Gerhard from Austria again. Together with Maria and Stefan we went to see the Maeklong Railway market in Samut Songkhram. It was a nice two day trip to a very original and non-touristy area about 150 km west of Bangkok. To see the peculiarity of this market, have a look at this very good video by Gerhard, filmed on our trip. Or have a look at the Maeklong gallery.
Back in Bangkok I was thinking about what I should do next. Go to the north of Thailand first or south right away to one of the islands. And then which island? There are so many. I was really undecided.
At the same time I also started to do some research on how to get from Asia to Australia by boat. Although the distance between the two continents is not that far, it turned out to be a very difficult thing to do. There are no regular ferries going anywhere between these continents and in many forums where this topic is discussed people just write: "Forget about it". I will write more about this issue in one of my next posts. Anyway, I eventually found a sailing boat (on findacrew.net) where I could join the crew. The boat was going from Phuket to Australia and leaving on the 10th of March.
So my decision was made and on the 5th of March I took the bus to Phuket, from where I was going to start my sailing trip.
Have a look at the galleries to see more pictures from Bangkok (1/2) and Bangkok (2/2).