Ho Chi Minh City, also known as Saigon is, with around 7 million inhabitants, the biggest city in Vietnam. It is even busier than the capital Hanoi and even bigger herds of motorbikes are swarming through the streets. Saigon was renamed to Ho Chi Minh city after North Vietnam had won the Vietnam war, in order to honor their leader Ho Chi Minh. Most people, however, still call it Saigon, and even the train station is still called Saigon. I call it Saigon just because it is shorter.
My first time in Saigon, from November 8th to November 15th (2010) I stayed at the Nga Hoang Hotel, which was 7 USD per night. This hostel would actually be a very nice place for that price. It has big and clean rooms with AC, is located in a quiet side alley in the center of Saigon and it has fast Wifi. However, I don't recommend staying their, because this hostel has the craziest and meanest owner I have seen so far. To tell all the unbelievable stories about this moody, unorganized and impolite person would be too much for this post. Nevertheless, here is one warning if you decide to stay there anyway. Always ask the owner for receipts, and insist on it if she doesn't want to give it to you at first. Everyday I saw other guests in huge arguments with her, mostly because she lets people pay twice or doesn't give back the deposit. One time I was helping a friend on an argument with the owner. She didn't get her key deposit back. When the owner realized that I was arguing against her, she said in a furious voice: "Get out of my hotel, now!". Well, we really had to hold ourselves back in order to not let the situation get out of control and in the end we lost the fight for the deposit (otherwise my friend wouldn't have gotten her passport back). The deposit was only around 5 Euro and not really worth further troubles. I ended up staying at the hostel until the next day, which was when I actually planned to leave.
My second time in Saigon, from January 12th to January 17th (2011), after my extended travel break in Nha Trang, I was couchsurfing with Marianne from Germany. Marianne, who is working in Saigon as a kindergarden teacher, was a very nice host and she made me immediately feel like at home in her big and cozy apartment.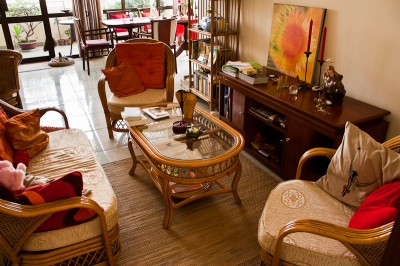 She also introduced me to some of her German friends and together we had a fun time exploring Saigon's nightlife. By that time Stefan and Maria, my friends from Austria, were also joining us. I met up with them in Saigon and we were going to travel together in Cambodia and partly in Thailand for the next two months.
My sightseeing highlights in Saigon were the Cu Chi Tunnels, the Zoo and the War Remnants museum. I really recommend the War Remnants museum. For a very reasonable entrance fee of only 15.000 Dong you get to see, amongst other things, very impressive photographs from different war photographers in the Vietnam war.
At last there is shopping in Saigon. My first time in Vietnam, when I was still traveling with Florian, we tried to buy some cloths and shoes. We got some insider tips from a Vietnamese girl about a cheap shopping place. We checked out the place, and they really had some nice and cheap stuff. However it was impossible for us to buy something there. The biggest sizes they had were still two sizes too small for us. Even the premises at that place were not really built for western people, as you can see in the picture below.
So we ended up shopping at some market in the backpacker district. Since it was a tourist place they also had bigger sizes. The prices there are in general higher, but with some bargaining you can still get a good price.
On January 17th, after almost 3 months in Vietnam, I took the bus to Phnom Penh in Cambodia.
Have a look at the galleries to see more pictures from Saigon.