Rumors go around the internet, that tourists in Vietnam have to officially pay more money (some say trice as much) for a train ticket than locals do. This might have actually been true a couple of years ago, and today tourists still get special tickets, saying "Foreigner" on it. However nowadays the ticket prices are the same for tourists and locals.
There is a single railway track connecting Hanoi and Saigon. The train stops at most of the popular tourist places along the way and is therefore a nice alternative to the most common mean of transport for tourists in Vietnam, the "Open bus". With an open bus ticket, you can go from north to south (or the other way) and make several extended stops along the way. I tried out both, the train and the open bus, and I must say that, especially for longer distances, I definitely prefer the train.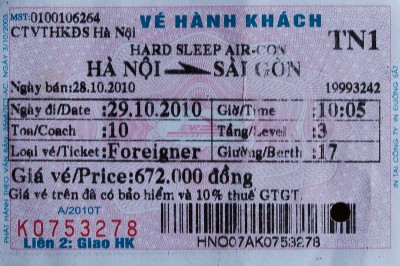 The beds on the train are bigger and much more comfortable and the ride goes much smoother. In addition, on the train you can walk around and stretch your feet anytime. In general there is much more space on the train, and even on a hard sleeper train there are "only" 6 people in one compartment, compared to the bus where around 30 people are stacked above each other on very little space. The chances are much higher on the bus that very smelly feet poison the air.
Buying a train ticket, however, takes a little bit more effort than buying a bus ticket (which is offered at every hostel or travel agency). The train ticket usually has to be bought directly at the railway station. This is rather uncomplicated though, and the staff at the train station usually speak at least basic English.
More information about the different train categories and an approximate train schedule for Vietnamese trains can be found at http://www.seat61.com/Vietnam.htm.
From my experience, the train schedule changes quite frequently and the only really reliable schedule I found was directly at the train station.
I paid 672.000 Dong for the ticket from Hanoi to Saigon on train TN1, which is the cheapest and slowest train (40 hours from Hanoi to Saigon). However it was a little bit tricky to get a ticket for this certain train (I only got it after some discussion and some confusion on both sides). My assumption is, that the staff at the train station is instructed to sell only tickets for more expensive trains to tourists. The second time I tried to get a ticket for train TN1, from Nha Trang to Saigon, they wouldn't sell me one, telling me that it was booked out already (5 days in advance). I really don't know if they where telling the truth, but there was no special holiday or anything coming up.
Besides the main railway track from Hanoi to Saigon, there is another smaller track, connecting Saigon with Phan Thiet (near Mui Ne). The train ride takes around 6 hours and the train ticket (88.000 Dong) for this train (Nr. SPT2/P1) can also be bought at the train station in Saigon.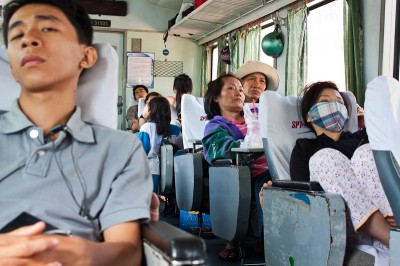 At the train station in Saigon you have to pick a queuing ticket in order to buy a train ticket, and I don't know anyone who didn't wait at least one hour until it was his turn.
From the train station in Phan Thiet, it is most likely that you have to take a taxi to the hotel in Mui Ne and the taxi ride is even more expensive than the train ticket. Supposedly there is a public shuttle bus, but we couldn't find its station in Phan Thiet. Because of this and the long queues at the train station in Saigon, I would recommend taking the bus from Saigon to Mui Ne instead. The bus drops you off at your hotel (if the hotel is located on the main street).
There are more trains in Hanoi going to Sapa, Halong Bay and China. However I don't have any experiences with those trains. More information about those trains can for example be found at www.seat61.com (link above).