After a week in Vinh Long, Florian and I went back to Saigon where we stayed for another week. This was not my last stop in Saigon and there will be a summary about all my stops there soon.
After Saigon we took the train up north to Phan Thiet, a larger town on the coast, next to Mui Ne. The seven hour train ride was around 88.000 Dong (3,5 Euro) per person.
Supposedly there is a shuttle bus connecting Phan Thiet to all the hotels along the coast road to Mui Ne. However we couldn't find the shuttle bus station, and had to pay another 220.000 Dong for a taxi to our hotel. I realized that, from a financial point of view it would have been better to take the bus from Saigon to Mui Ne, which costs around 100.000 Dong, but goes along the coast road and drops you off at your hotel.
In Mui Ne we stayed at the Mai Am Guesthouse, where we paid 10 USD per person and per night. Around 20 steps from our room was a quiet and empty tropical beach with palm trees leaning towards the ocean. The perfect place to be after a week in a crowded, loud and hectic Saigon. The first day in Mui Ne was a long awaited, relaxing day on the beach. I even allowed myself a one hour full body massage for 100.000 Dong (4 Euro).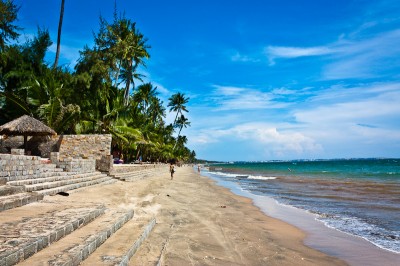 On the second day we rented a motorbike for 8 USD a day and our plan was to visit the famous white sand dunes north of Mui Ne. Maybe we should have gotten better directions to the dunes than "somewhere north of Mui Ne", because after driving for around 45 min up north along the coast, we still couldn't see the dunes and decided to turn left into the countryside and thought maybe the dunes where more in that direction. As it turned out, if we would have gone maybe another 500m along the coast, we would have seen the dunes.
Instead we got a little bit lost in the countryside. Interestingly, a little bit after our left turn, it felt like we were in a totally different country, which could have been somewhere in central Europe (e.g Burgenland in Austria). The air suddenly cooled down, the smell changed from saltwater to fresh grass and the lanscape from palm trees and sand to deciduous trees and steppe. Only a Vietnamese farmhouse once in a while or the swastika at a buddhist graveyard reminded me that I was still in Vietnam. Actually quite a surreal atmosphere. Eventually, by navigating with the sun, we made it back to the coast and where suddenly back in the Vietnam from before.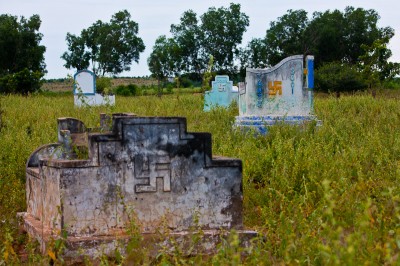 After only 3 nights, on the 18th of November, we already left Mui Ne. Florian went to visit Dalat, a town in the highlands, for a couple of days and I took a bus to Nha Trang where I was going take an eight weeks brake from my travels.
Have a look at the galleries to see more pictures from Mui Ne.