Here is the complete packing list for my current world trip. This very detailed list should give you an idea about what to bring along on a longterm backpacking trip, although everyone's individual list would most likely look different. Even if you are already an experienced backpacker, you might find the one or the other useful thing in this list which you haven't thought about so far.
When I move between destinations I carry two backpacks. One big backpack holding 70 litres on my back and a smaller backpack in front.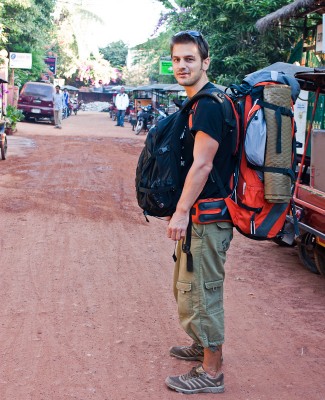 The practical thing about having an extra small backpack is that I can always carry with me the things I need and most of my valuables, while the rest of my luggage in my big backpack is often stored somewhere else (for example when I am on a bus or a train).
Big backpack:
1 thin, wind and water proofed jacked
1 fleece sweater
1 sweater
6 T-shirts
3 shirts
2 jeans
2 shorts
1 belt
1 pair of trunks
1 set of functional underwear
10 underpants
10 pairs of socks
1 pair of nice shoes
1 pair of trekking shoes
1 pair of sandals
1 small towel
1 toilet kit
1 sleeping bag
1 thermo sleeping mat (didn't need it so far)
1 large and very thin blanket (e.g for lying on the beach)
1 cap
1 universal plug adapter
1 5m string (useful for hanging out the laundry)
1 spoon
1 Swiss army knife
1 flashlight
3 reserve batteries (AAA)
1 earplugs
1 sewing kit
1 duct tape
1 padlock
1 tripod
1 small camera
1 lens cleaning kit
1 external hard drive (250 GB, for double saving my photos)
1 small tube of detergent
cables and charger equipment for all gadgets (long enough cables)
1 international certificate of vaccination
1 driver license
6 passport photos (for Visas etc.)
1 cash card
1 Malaria medicine (Malarone)
1 medicine for diarrhea and stomach problems
3 Aspirin C
1 elastic bandage
1 pack of plaster
Small backpack:
1 SLR Camera
2 lenses for the Camera
1 laptop
1 headphones
1 pair of sunglasses + box
1 guide book
1 book
1 puzzle magazine
1 deck of playing cards
1 pair of dice
1 mosquito spray
Things I always carry with me: (some of these things I carry in a special thin little shoulder bag underneath my shirt)
1 Iphone
1 passport
1 credit card
1 SD card, where all my important documents are additionally saved
1 sim card
cash in local currency
emergency currency (40 Euro, 100 USD)
other temporarily important documents
END OF LIST