From Chengdu I took the bus to Emei Shan, where I was going to climb Mt. Emei. Two days away from any Chinese megacity was really what I needed.
At 3,099 meters, Mt. Emei is the highest of the four sacred Buddhist mountains of China.
To finally get there took me longer than expected. After a quick lunch at the bottom of the mountain I was ready to go up at around 2 pm. At the entrance to the walking path I was intercepted by a bunch of street vendors trying to sell me bamboo walking sticks and some where asking me if they could carry me up the mountain. Two carriers would have carried me up in a litter.
An American couple, who was part of a guided tour asked me if I was able to purchase a simple entrance ticket without having to hire expensive carriers. They and their group had some discussions with their guide (or the stuff at the entrance, I'm not quite sure), because they weren't allowed to walk up on their own. Supposedly it was to dangerous. Sounded very much like a scam to me.
However when I purchased my ticket I was able to get a simple entrance ticket without discussion (maybe because I wasn't part of that group).
Still, I bought one of the bamboo sticks for 2 Yuan, which was actually quite useful because it made climbing the stairs a lot easier. It must be said that the path leading from the entrance at around 600m to the top of the mountain at 3077m is entirely paved with stone stairs.
So I started walking, and I noticed that the path was actually quite busy. There where quite a few people hiking and there were little stalls and restaurants all along the way. Then, after walking for about an hour, I reached the first Buddhist temple, and surprisingly the temple was surrounded by masses of tourists. Wondering where they were all coming from, I realized that there was a cable car station right next to it.
I worked my way through the crowd past the temple and continued walking up the stairs. From this point on nobody else was following me. It was the first time since I was in China that there were no people around. I really enjoyed the silence. Very rarely I encountered other hikers or Chinese people and horses carrying amazingly heavy loads, like wood and stones, up the mountain.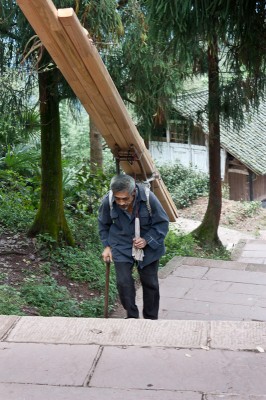 After four more hours of walking there was still no other person around, but suddenly out of nowhere a little monkey crossed my path. As I continued walking I approached a big gate with a big paved square and big monkey statues in front. Scattered all over the square was a whole herd of monkeys loitering and watching. The whole situation reminded a lot of the movie "The Jungle Book". With a little jittery feeling I walked through the monkey crowd and passed the gate.
About 50m after the first gate I encountered a second gate leading to a huge Buddhist temple, the "Elephant Bathing Pool" temple. While taking a little break there I met a young Buddhist monk whose English was quite descent. He was also on his way up the mountain together with his master and they were spending the night at the temple. Since it was already getting dark and the monk was able to translate for me to the other people at the temple I decided to also spend the night there in one of the dorm rooms.
The next morning I got up at seven and continued my way to the top right away. It took me a little more than two hours until I finally got there. At the so called Golden Summit (at 3077m) a giant golden Buddha statue with several heads appeared through the fog.
However, although I was almost the only person walking on the path to the top, I was not alone anymore when I finally reached it. Buses and cable cars had already taken masses of tourists up there. Many try to be there at the right time when the sun is above a sea of clouds in order to take some nice shots. Unfortunately on that day it was cloudy and no sun in sight (or maybe 9 am was already to late to get a good shot).
At 10 am I started my way back down. I decided to take a different route to see some more of Mt. Emei. I still had 7 hours left to catch the last bus (at 5pm) at the bottom of the mountain. I thought I had enough time left, because the way up took me altogether around 6 hours and walking down was going much faster. What I didn't know was that this route was much longer than the one on the way up. It was going up and down several times. When I realized that I was running out of time I started to walk faster and faster and in the end I was actually running (I really wanted to catch that bus, because I had already booked a train ticket for the next day). While running I still had to stop several times to take pictures. So it was kind of like a biathlon, running and shooting. Just when I was about to give up, a couple of minutes to 5pm, I heard some cars honking and for the first time I was happy to hear that noise. So I started running again and just made in time to catch the last bus.
It was too bad that I was in such a hurry on the way down, because the scenery there was much more beautiful than the one on the way up. Especially the scenery in the valley is very beautiful with several waterfalls, little lakes and a big monkey park. You could easily spend a whole day there.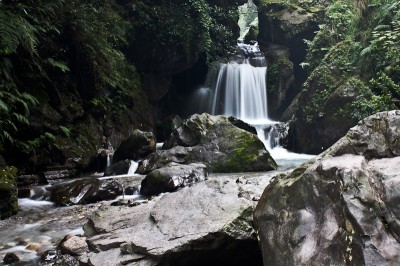 So doing Mt. Emei in two days is possible, but I really recommend planing at least three days for this trip in order to have more time to enjoy the beautiful scenery. I don't recommend taking any cable cars or buses up the mountain, because you would miss the best parts. The more beautiful path, by the way, is the one starting from the Wuxiangang bus station.
Have a look at the gallery to see more pictures from Mt. Emei.