One more time waiting in line in order to pass through the security check. The luggage is scanned, I walk through a metal detector and I have to show my ticket to the guard. Once more I made it into a Chinese train station.
My last train in China (nr. T41) took me from Guilin to Nanning.
Nanning is a major city, close to the border of Vietnam. From here it is easy to get to Hanoi (Vietnam) by bus or by train, and it is also possible to get a Vietnam Visa here. Other than being close to Vietnam the city doesn't really have anything which it is famous for. Therefore it is not touristy at all and there are only two hostels in town.
I chose the Lotusland hostel, where I stayed two nights. The hostel is nice and clean. Pretty much all quests in the hostel were travelers going to Hanoi or coming from Hanoi, and nobody seemed to stay more than two nights. Here is a picture of the hostels roof terrace: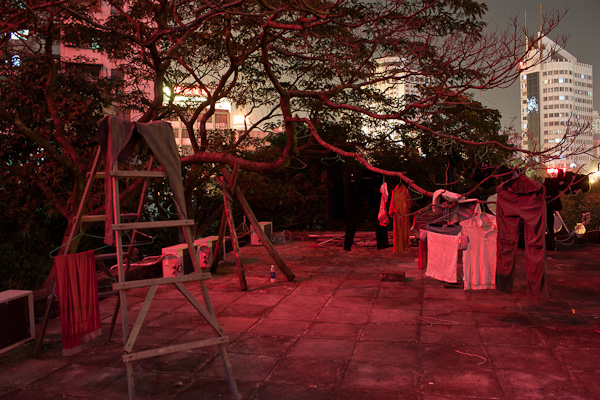 No need for sightseeing in this city, so it was time for some travel planing, doing a financial check, and trying to figure out how to get to Hanoi.
Looking back, China impressed me in many ways. I was impressed by the amount of people, by the amount of construction sites everywhere and by the amount of cars and the traffic mayhem in the cities. The traffic seemed to be most regulated in Beijing. I really liked Beijing for its very special atmosphere, for its mix of modern metropolis and old China. I was lucky to see Beijing in a time period where it was free of any smog. Everywhere else along my way through China it was always hazy. Either it was smog in the cities, clouds or fog in the countryside, or a combination of all. Not the best conditions for taking pictures.
Also quite impressive was some of the food I saw, like scorpions or sheep penises on sticks. However maybe I should have tried more of that food. I tried some, sometimes not really knowing what it was, but most of the time I was happy eating egg rice. I found the best food at the little plastic chair restaurants which are pretty much everywhere. The smaller the plastic chairs the better and the cheaper the food.
Fortunately I didn't miss out on Chinas beautiful and unique landscape, like the karst mountains in Yangshuo or Mt. Emei.
Nevertheless, traveling in China for one month is barely enough to get a glimpse of this huge and diverse country. Maybe I manage to come back some day to see some more of it. However next time things might be much different, here in this quickly growing and constantly changing country.
On October 21th in the morning I took the bus and continued my travels towards my next destination, Vietnam.