From Beijing to Xi'an I took train nr. T41, which was not as fast as my last train, but with a ticket price of 150 Yuan it was also cheaper. The average speed was around 120 km/h and the train ride took 13 hours in total. The passing scenery wasn't much different from the scenery between Harbin and Beijing, mostly farmland with big cities and many construction sites along the way.
Xi'an is one of the four great ancient capitals of China and is famous for its Terracotta army and its very well preserved city wall. I only stayed there for 3 nights, at the Xiangzimen youth hostel. The hostel was nice and quite big and the quests were almost entirely people from the west. Chinese quests didn't seem to be very welcome there. A sign at the reception said: "No Chinese allowed in the dorm rooms".
I didn't have so much time in Xi'an and I didn't want to be in such a rush, therefore I decided not to visit the famous Terracotta army. I think it was not such a bad decision, because the national holidays were still going on. Later a fellow backpacker told me that she had visited the Terracotta army during the national holidays and it was anything but fun. She had never before seen so many people at one spot and she was crazily fighting her way through the tourist masses. Fortunately there are already countless pictures, showing every possible angle of the army, on the net.
What I didn't miss out on was a walk on the city wall. Doing the whole round took me more than 4 hours by foot. I think it could be done much faster if you don't walk criss cross and take a picture every 20m. Another option is to rent a bike.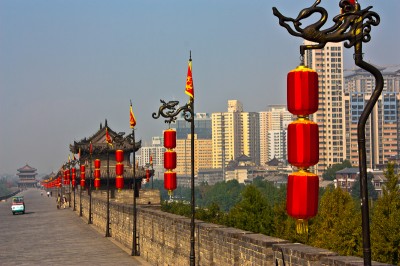 To walk on the city wall is really a unique opportunity, because a large part of the city can be explored with a view from the top this way. However the view did not go very far when I was on the wall, because the whole city was covered in smog. Through the smog you could recognize hundreds of cranes everywhere along the way. It seemed like the whole city was one big construction place.
In some areas the view upon the streets of Xi'an showed a flood of cars, buses and thousands of people. It was nice to watch the mayhem on the street from above and not being in it. On the wall it was actually really quiet with hardly any people on it.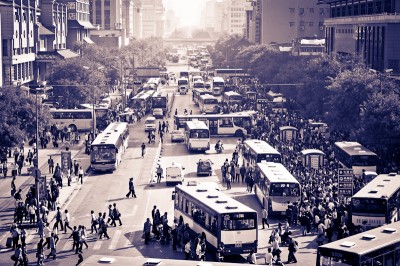 Another day I experienced the mayhem on the street at first hand when I was taking the bus to the train station to buy a train ticket. The whole little adventure took me almost half a day and to actually get a bus back from the train station required a lot of pushing. I had to stop being nice and even had to push little old ladies, otherwise it would have probably taken me hours to get into a bus. Since everyone else did it and the little old ladies themselves were also pushing everyone else, I didn't feel so bad about it.
On the last of my three days in Xi'an I went to some of the electronic stores and checked out their prices. Back at home I had heard some rumors that camera lenses, for example, were supposed to be much cheaper in China. That rumor turned out to be not true. Camera lenses, like all other electronics were actually at least the same price as in Europe and often even more expensive.
With no new electronics as souvenirs I took my next train to Chengdu on October 9th.
Have a look at the gallery to see more pictures from Xi'an.