After one week on the road, our van barely made it to Cairns, and when we were just 200 meters away from the Reef Backpackers hostel the car died and didn't start again. Luckily Frank and me had reached our goal and we checked in at the hostel. Marion stayed in her van. Together we found a car repair shop and after a couple of days the van was fixed. Marion then soon continued her road trip through Australia.
The Reef Backpackers, where Frank and me stayed for quite a while, is a very cosy and inexpensive hostel, which has everything to offer a backpacker can ask for. Warm showers, kitchen, garden with swimming pool, TV room, lockers and more.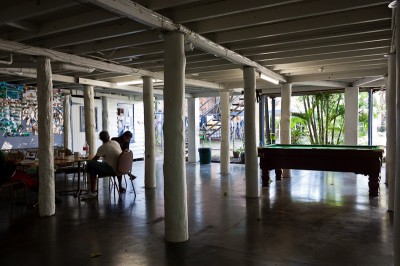 Most quests are from Germany, France or Italy and many of them stay for a couple of weeks and more. Therefore living in this hostel feels more like living in a shared apartment. Many of the quests have a job in Cairns. The hostel itself is also run by backpackers. They organise and clean everything and in return get free accommodation and some spending money. The backpackers who don't have a job are either looking for one or some are just chilling for a while like Frank and I did.
Cairns is definitely the right place to be for having a relaxed time. It is a small and quiet town, which doesn't lack any entertainment. During the day, a nice place to hang out is the Lagoon. It's the beach area right next to the city centre and it's always crowded with backpackers and locals. There is a giant free public pool (no swimming in the sea, because of crocodiles and sharks), many barbecue spots, beach volleyball and work out areas, and a big meadow, with enough space for everyone to lie down and relax.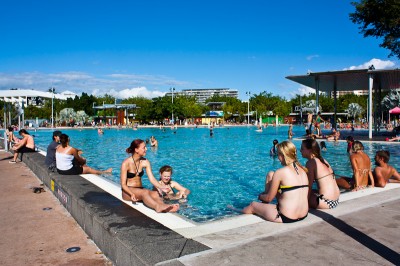 For night activities there are plenty of pubs and clubs and you can always find some backpackers who are motivated to party, no matter which day, or which time of the day, it is.
Many backpackers who are coming to Cairns are not leaving this town without doing their first skydive. It's a big thing here. Most people in my hostel did it, and at some point I also got infected by the skydive fever and decided to jump from a plane myself. There are a couple of places in Cairns which offer skydiving. I found a special deal at tandem cairns. Although it is one of the cheaper companies, it is still very professional. For around 250 dollars I did a jump from 14000 feet, which means one minute of free fall. I also purchased the video of my jump, so you can see yourself how a tandem skydive near Cairns looks like.
If at some point you should get tired of the Lagoon, party and skydiving you should go for a hike and check out the beautiful nature in and around Cairns. Some beautiful places are for example the Mount Whitfield conservation park which is around 40 min walk from the centre or Yorkeys Knob, a suburb north of Cairns, which has quite a beautiful beach.
In Yorkeys Knob I also met up with a bunch of couchsurfers one day. Mike, a great couchsurfer, invited us to a barbecue at his house near the beach. It was a nice evening and it made me realize that I should do more couchsurfing again.
Four weeks in Cairns went by really fast, but at some point I decided to leave the warm weather behind and go down south to winter. This time I decided to take the bus. For around 350 dollars I bought a greyhound bus ticket from Cairns to Melbourne. On the way down I was allowed to hop on and of the bus as much as I liked as long as I didn't go back. I thought this was the most convenient way, and also less time consuming, since I had only less then two months left in Australia. Also, I had more time to concentrate on couchsurfing on my way down. Indeed I had many very nice and special couchsurfing experiences on my way to Melbourne, which you can read in the next posts.