After postponing the start of my trip day after day I finally caught a train to Bratislava on September 7th. The preparation for the trip and especially moving out of my apartment took in the end more time than I thought. It also took me a lot of time to find reliable information on the internet, especially about injections, visa and travel insurance. Here is some of the information, which I found and think might be useful when planing a long term trip, especially to Asia and South America.
The price for the train ticket to Bratislava is 14 Euro and it is actually a return ticket including all public transportation for one day in Bratislava. This makes a day trip to Bratislava quite attractive. My trip however continued to the east. I bought the so called "Citystar ticket" at the train station in Bratislava and a reservation for a direct train from Bratislava to Moscow via Ukraine. It was very easy to buy a ticket in Bratislava, because everyone spoke very decent English and also some German.
The train took off 5 hours after my arrival in Bratislava and it arrived in Moscow in a little less than 2 days. Time on the train went by pretty fast. The first 12 hours I shared my compartment with an old Swiss guy, who was talking non-stop. He was a living encyclopedia and was actually telling quite interesting stories about anything and everything.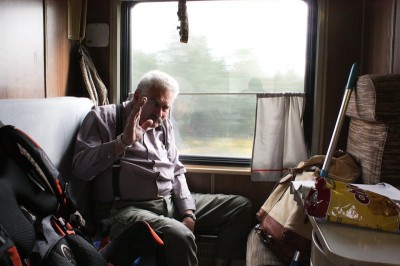 In Moscow I had my first couchsurfing experience. I stayed with a teacher in an apartment in the suburbs of Moscow. It was a really positive experience. The girl I stayed with was really nice. She made me feel like at home and even gave me a key to her apartment. She also told me some insightful stories about Russia. For example about the school system, and that she has to let her students pass the class, even if they are mostly absent and don't learn anything. She also told me that in Russia it is quite easy to buy pretty much everything on the black market, for example a driver license. When we went out one night, a friend of her, who actually just bought her license 2 weeks ago, drove us around in her car. This was a quite interesting car ride, but I survived. 😉
My general impression of Moscow is pretty much that of many other eastern european cities, except the much bigger dimensions. There is a lot of police, especially near train and metro stations, but nowadays they normally don't check on tourists from Europe anymore if there is no obvious reason to do so. Prices are in general pretty much the same as in Vienna. Good thing is that there are quite many open WiFi Hot Spots. Here comes an internet phone like the Iphone in very handy. With English it is not so easy to get around, however I always found some young girls from the University, whose English was quite descent and who where always very helpful. (Maybe as a girl you should ask a young guy to get more help). With the help of the translation from University girls I also managed to buy a reservation for the train from Moscow to Irkutsk and Vladivostok. Staff at the ticket counter don't speak English.
Altogether I had a very pleasant stay in Moscow and after 4 days, on September 12th, I caught the next train to Irkutsk.

FURTHER INFORMATION

Couchsurfing:
Couchsurfing is an internet platform where people offer other courchsurfing members a place to stay (for free). But its also a great way to meet interesting people without actually surfing or being couchsurfed. Very great site!